After leveling the T20 series 1-1, India and South Africa are all set to lock horns in the three-match Test series starting on 2 October. The last Test series between the two teams was played early last year in South Africa where India were expected to do well, yet ended up losing the series 2-1.
As for South Africa, they last visited India at the end of 2015 and had a horror Test series, losing the contest 3-0. As such, both teams have a lot to play for in what is expected to be another closely contested tussle.
While India retain pretty much the same team from the last series between the teams in 2018 barring a couple of changes, South Africa are heading into a new era minus the likes of AB de Villiers and Hashim Amla.
In this feature, we look at the top 5 highest individual scores in India vs South Africa Tests:
#5 Herschelle Gibbs (196)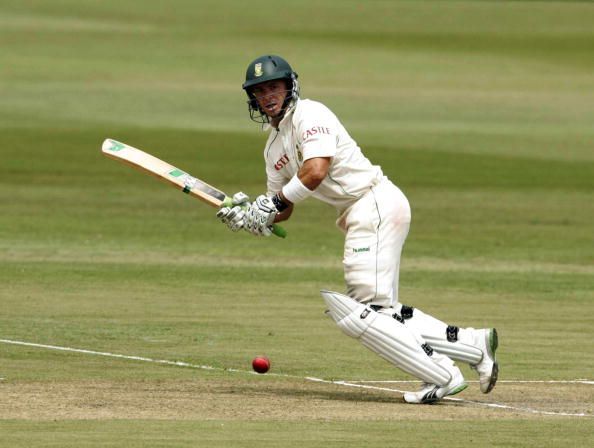 The former South African opener made 196 during the Port Elizabeth Test played from November 16-20, 2001. India, led by Sourav Ganguly, won the toss in the game and elected to field first.
Herschelle Gibbs was in sublime form in the innings even as wickets kept falling around him. His 196 came from 354 balls with 25 fours and a six.
Gibbs was eventually dismissed by Sachin Tendulkar with the score reading 324 for 7. He featured in a crucial 80-run stand for the seventh wicket with Mark Boucher, who remained unbeaten on 68.
South Africa were all out for 362 as Javagal Srinath finished with impressive figures of 6 for 76. India managed only 201 in their first innings, VVS Laxman contributing 89 of them as Shaun Pollock claimed 5 for 40.
However, dogged second-innings half-centuries from Deep Dasgupta (63 from 281 balls) and Rahul Dravid (87 from 241 balls) enabled India to draw the Test.
#4 Jacques Kallis (201 not out)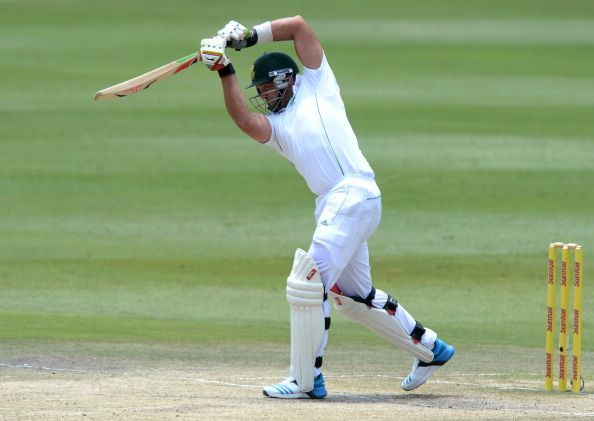 The usually defiant Jacques Kallis made an uncharacteristically easygoing double hundred at Centurion in the first Test of the 2010 series played from December 16-20.
It was an innings determined by circumstances. India, batting first after being put in, had crumbled to 136 as Morne Morkel picked up 5 for 20 and Dale Steyn 3 for 34. In response, Kallis walked in at number four with the score reading a healthy 166 for 2, South Africa already in the lead.
The need of the hour was for South Africa to get quick runs and bat India completely out of the game. Kallis responded with an unbeaten 201 from 270 balls, at a strike rate of 74.44 with 15 boundaries and five sixes.
He featured in a 230-run third wicket stand with Hashim Amla who contributed 140. AB de Villiers also helped himself to 129 from 112 balls as South Africa posted a massive 620 for 4 declared.
India replied with a much improved 459 in the second innings, with an unbeaten 111 from Sachin Tendulkar, 90 from MS Dhoni and 80 from Gautam Gambhir. But it was all too late as South Africa won by an innings and 25 runs.
#3 AB de Villiers (217 not out)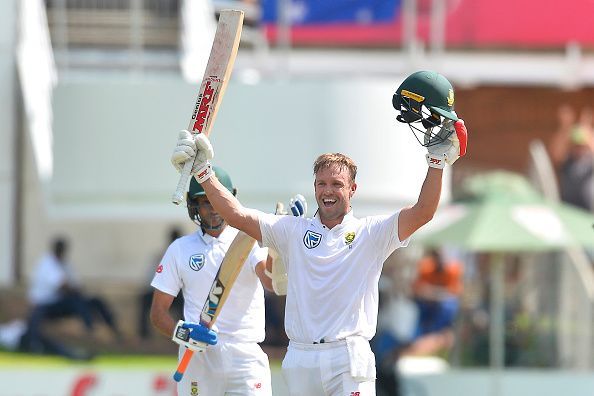 The former South African captain blazed his way to an unbeaten 217 in the 2008 Ahmedabad Test held from April 3. Much like Kallis in the previous instance, AB de Villiers too had the cushion of India having crumbled batting first, this time to 76, as Dale Steyn claimed 5 for 23 and Makhaya Ntini 3 for 18.
Coming in at number six with his team score reading 117 for 4, De Villiers took on the Indian bowling attack comprising Harbhajan Singh and Anil Kumble and finished with 217 from 333 balls, with 17 hits to the fence and two over it. He featured in a 256-run fifth wicket stand with Kallis, who this time contributed 132. South Africa declared on 494 for 7.
Sourav Ganguly's 87 and MS Dhoni's 52 took India to a respectable 328 in their second innings. But it was not enough to save them from defeat by an innings and 90 runs.
#2 Hashim Amla (253 not out)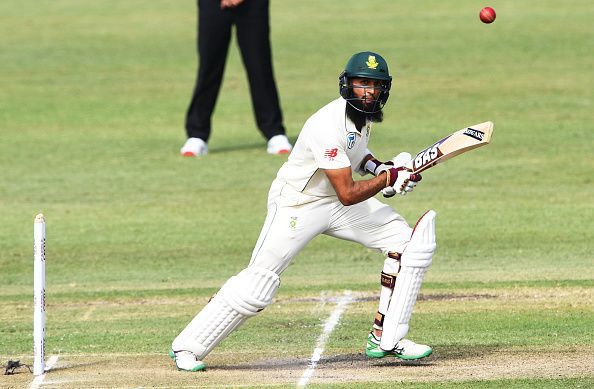 Yet another unbeaten double hundred by a South African, yet another innings victory for the Proteas, yet another triumph in India. Hashim Amla had a terrific terrific tour of India in 2010, and during the first Test played at Nagpur from February 6, he was stuck like glue to the crease.
South Africa batted first after winning the toss, but soon found themselves in trouble at 6 for 2 as Zaheer Khan sent back both the openers cheaply. However, Amla batted on and on, and ended up making 253 not out from 473 balls with 22 fours.
The Jacques Kallis factor comes in here as well as the all-rounder contributed 173 from 351 balls.
Amla and Kallis added a massive 340 runs for the third wicket as the Indian bowlers were taken to task. South Africa declared at 558 for 6.
Under pressure, India managed only 233 despite Virender Sehwag's 109 and Subramaniam Badrinath's 56 on debut. Dale Steyn was a the wrecker-in-chief with 7 for 51 as India slumped from 221 for 4 to 233 all out.
Despite a second-innings hundred from Sachin Tendulkar, India lost the Test by an innings and 6 runs.
#1 Virender Sehwag (319)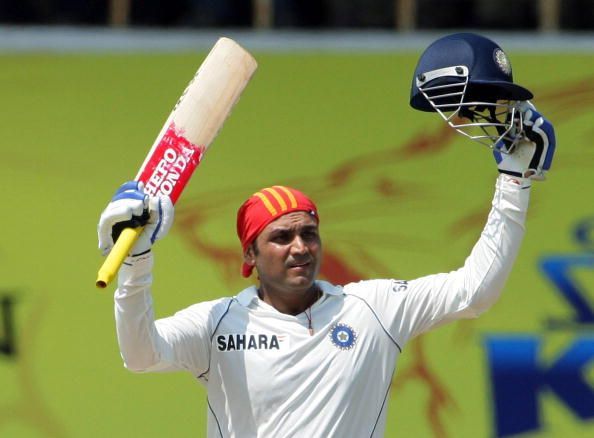 The top slot when it comes to highest individual scores in India-South Africa Tests is reserved for Virender Sehwag, who smashed a mesmerising 319 from 304 balls with 42 fours and five sixes at a sensational strike rate of 104.93.
The numbers speak for themselves, but the circumstances of Sehwag's innings were quite in contrast to some of the ones mentioned before in this piece. In this Test played at Chennai from March 26-30 2008, South Africa batted first and posted an imposing 540, built around Hashim Amla's 159, with good contributions from some of the others.
Most experts thought India would be under pressure, but Sehwag came in and blazed away against a strong South African attack comprising Dale Steyn, Makhaya Ntini and Morne Morkel. He featured in a 213-run opening stand with Wasim Jaffer, who contributed 73, and added 268 for the second wicket with Rahul Dravid, who made 111.
Neil McKenzie's unbeaten 155 in the second innings ensured the game was drawn, but Sehwag was undoubtedly the hero of the Test.